Pending Per Week:
Pending home sales surged last week, transitioning from the second slowest week to one of the most robust weeks of the year. The surge was evident as 186 homes entered the pending status during this period. This upward trend was driven by a significant increase in both new construction and resale properties. Specifically, the number of pending new construction homes rose from 40 to 57, while the number of pending resale homes increased from 96 to 129.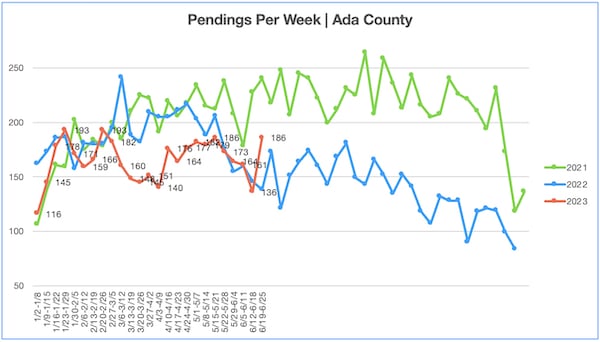 Homes for Sale:
The housing market witnessed a significant upswing in the number of homes available for sale, reaching a total of 1135, a notable increase from the previous count of 1054. Within this inventory, there were 204 new construction homes, reflecting an uptick from the previous count of 194. Additionally, the number of homes under construction rose to 204, up from 183. Moreover, the inventory of resale homes expanded to 728, marking an increase from the previous tally of 677.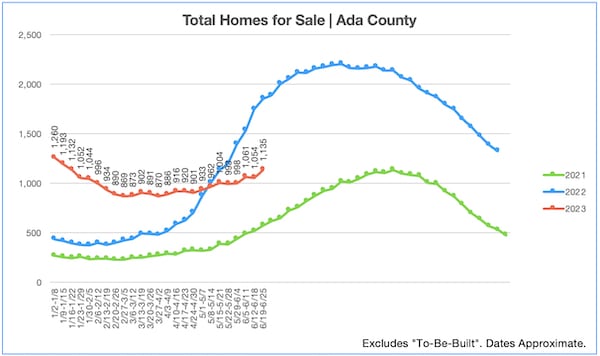 Inventory Rate:
The inventory rate demonstrated a notable improvement, strengthening to 1.4 months, down from the previous rate of 1.8 months. To break it down further, the inventory rate for new construction homes decreased to 1.7 months, from the previous figure of 2.2 months. Similarly, the inventory rate for resale homes decreased to 1.3 months, compared to the previous rate of 1.6 months.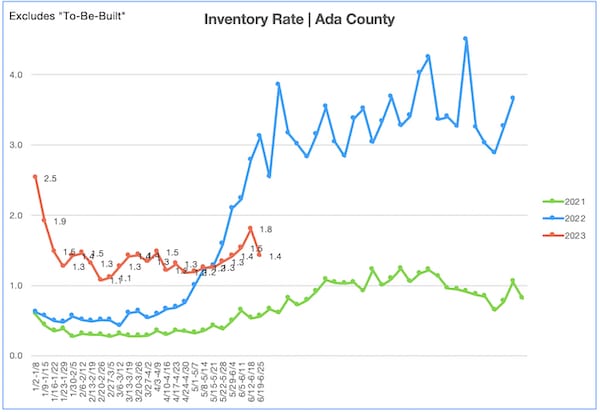 Interest Rates:
Over the past five weeks, interest rates have maintained a relatively stable pattern, hovering around the 6.75% range for a 30-year fixed-rate mortgage. Specifically, for the U.S. Weekly averages as of June 29, 2023, the 30-year fixed-rate mortgage stood at 6.71%, while the 15-year fixed-rate mortgage was at 6.06%.
*Although the author attempts to provide reliable, useful information, they do not guarantee that the information or other content in this document is accurate, current or suitable for any particular purpose. All content is subject to change without notice. All content is provided on an "as is" basis, with no warranties of any kind whatsoever. Go to Disclaimers and Methodology.