Ada County Real Estate
Pending Homes for Sale
The Ada County real estate market had really solid sale-pending activity this last week with 178 homes for sale going pending. That was the strongest week since August, but more significantly, when comparing year-over-year it was just as strong as the previous 2 years (before the market correction began in May '22).
Of those 194 pending homes for sale, 84 were new construction and 94 were resales.
It was the new homes for sale that gave the biggest boost to sale activity (about a 40% increase over the previous two weeks).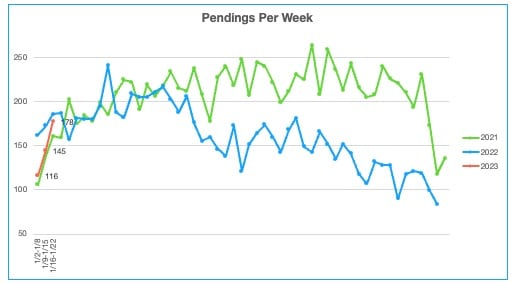 Homes for Sale
With the increased demand in the Boise metro real estate market came another decline in the number of homes for sale in Ada County.
Today, there's 1132 homes for sale which is about 5% fewer than the previous week. Of those, 460 are new homes (complete), 156 are under-construction, and 516 are resale homes.
The number of homes for sale is still more than twice what it was the past 2 years, but historically speaking, still extremely low for Ada County (over 500,000 people).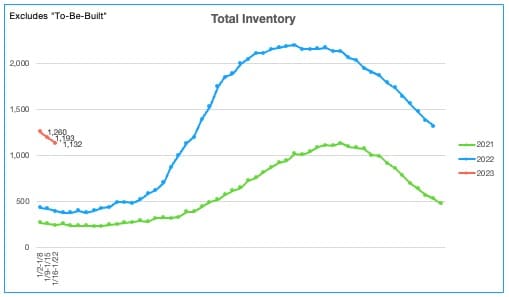 Here's a look of how those 1132 homes for sale are broken down between new construction, under-construction, and resales. As you can see, the reduction in homes for sale is true for all these category of homes.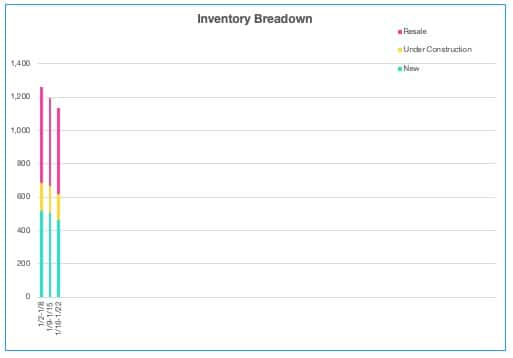 Months of Inventory
The best indicator of real estate market pressures is looking at the ratio of supply versus demand and is the "inventory rate" or the "absorption rate".
Last week's inventory rate dropped to 1.5 months – the lowest since May '22. This is a very good sign, that that moment, the Boise Metro real estate performing very strongly.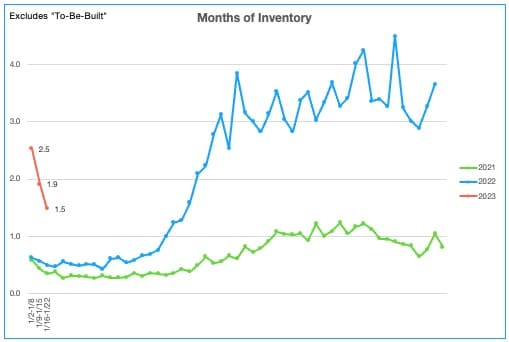 Boise Real Estate
The number of homes for sale in Boise that went pending matched the previous week at 66.
The most expensive home for sale that went pending was a new construction home in Boulder Point, which is located in the foothills of NE Boise, just above Harris Ranch. The home had been for sale for 108 days at an original asking price of nearly $2M, before lowering the price to $1,750,000 in December. The home was for sale at that price for about 6 weeks before they accepted an offer.
The least expensive home for sale that went pending was asking $299,000 in S Boise.
Here's the week-over-week comparison for the Boise real estate market:
| | | | | | |
| --- | --- | --- | --- | --- | --- |
| Date Range | Total Pending | High Price | Low Price | Average | Median |
| 12/26-1/1/23 | 35 | $ 998,900 | $ 299,900 | $ 526,932 | $ 499,900 |
| 1/2-1/8/23 | 45 | $ 1,900,000 | $ 299,900 | $ 547,453 | $ 459,900 |
| 1/9-1/15/23 | 66 | $ 1,950,000 | $ 268,000 | $ 582,206 | $ 492,206 |
| 1/16-1/22/23 | 66 | $ 1,750,000 | $ 299,000 | $ 567,642 | $ 489,900 |
Boise Real Estate Market Analysis
Current Market Analysis
Status
Class
Type
Area
No. of Listings
Dollar Volume
Average Price
Median Price
Average DOM
Listings Under Contract
66
$37,464,397
$567,642
$489,900
70
Residential
Single Family
Boise North – 0100
2
$1,569,800
$784,900
$784,900
135
Boise NE – 0200
6
$6,294,700
$1,049,117
$917,450
80
Boise SE – 0300
10
$5,440,590
$544,059
$509,900
60
Boise South – 0500
2
$879,800
$439,900
$439,900
60
Boise SW-Meridian – 0550
14
$6,697,730
$478,409
$487,495
98
Boise West – 0600
7
$2,814,200
$402,029
$405,000
61
Boise W-Garden City – 0650
10
$4,364,400
$436,440
$407,450
44
Boise NW – 0800
14
$9,007,177
$643,370
$606,950
54
Meridian NE – 1020
1
$396,000
$396,000
$396,000
156
Subtotal
66
$37,464,397
$567,642
$489,900
70
Boise Real Estate Summary
Search Results Summary -66 Listings
Beds
Baths
SqFt
LP
LP/SqFt
66 Pending Listings
High
6
3.50
3920
$1,750,000
$454
Low
2
1
864
$299,000
$159
Avg
3.52
2.26
1978
$567,642
$292
Med
3
2
1974
$489,900
$290