Ada County Real Estate
In the Ada County real estate market there were 116 pending home sales for the week of 1.2.23-1.8.23. Of those, 50 were new construction and 66 were resale homes.
There's currently 1260 homes for sale in Boise, Meridian, Eagle, Kuna, Garden City, and Star. Of those, 519 are new construction, 168 under construction, and 573 are resale homes.
Historically, the number of homes for sale modestly grows through the first quarter of the year, and accelerates into the 2nd & 3rd quarter.
When looking at the current pending homes for sale rate to the inventory, we can calculate the "Months of inventory" or "Absorption Rate". Overall, Ada County had a 2.5 month inventory of homes for sale. Breaking that down… new homes had a 3.2 month inventory and resale a 2.0 month inventory.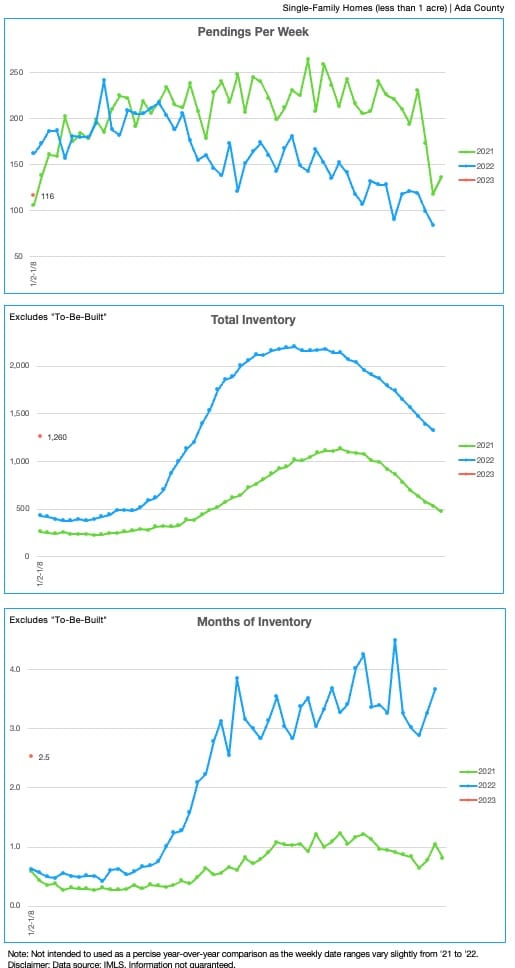 Boise Real Estate
For the Boise real estate market, there were 45 homes for sale that went pending. The highest price home was $1.9M and the lowest was $299,900. The average was $547,453 and the median $459,900.
Here's a comparison of this week vs the week prior.
| | | | | | |
| --- | --- | --- | --- | --- | --- |
| Date Range | Total Pending | High Price | Low Price | Average | Median |
| 12/26-1/1 | 35 | $ 998,900 | $ 299,900 | $ 526,932 | $ 499,900 |
| 1/2-1/8 | 45 | $ 1,900,000 | $ 299,900 | $ 547,453 | $ 459,900 |
Boise Real Estate Market Analysis
Status
Class
Type
Area
No. of Listings
Dollar Volume
Average Price
Median Price
Average DOM
Listings Under Contract
45
$24,635,388
$547,453
$459,900
56
Pending
Residential
Single Family
Boise North – 0100
3
$2,590,000
$863,333
$650,000
68
Boise NE – 0200
4
$4,454,700
$1,113,675
$962,400
52
Boise SE – 0300
7
$3,609,590
$515,656
$499,900
71
Boise Bench – 0400
5
$2,027,699
$405,540
$399,000
48
Boise South – 0500
6
$2,820,690
$470,115
$448,450
44
Boise SW-Meridian – 0550
7
$3,641,214
$520,173
$465,000
80
Boise West – 0600
2
$754,895
$377,448
$377,447
92
Boise W-Garden City – 0650
5
$1,997,700
$399,540
$349,900
12
Boise NW – 0800
6
$2,738,900
$456,483
$391,500
50
Subtotal
45
$24,635,388
$547,453
$459,900
56
Boise Real Estate Summary
Search Results Summary -45 Listings
Beds
Baths
SqFt
LP
LP/SqFt
DOM
45 Pending Listings
High
6
4.50
5320
$1,900,000
$498
203
Low
2
1
702
$299,900
$193
0
Avg
3.29
2.14
1806
$547,453
$309
57
Med
3
2
1624
$459,900
$295
39