Ada County Real Estate
Pending Homes for Sale
In Ada County, there were 145 homes for sale that went sale pending during the week of 1/9/23 through 1/15/23. Of those, 51 were new construction and 94 were resale homes for sale.
This is slightly below the pending home sale activity compared to last 2 years, but not drastically as you can see in the chart below.
Homes for Sale
There's currently 1193 homes for sale in Boise, Meridian, Eagle, Kuna, Garden City, and Star. Of those, 503 are new construction (complete), 161 under construction, and 529 are resale homes.
This is substantially above the record-low inventory levels the Boise market had the last 2 years, but historically is still very low.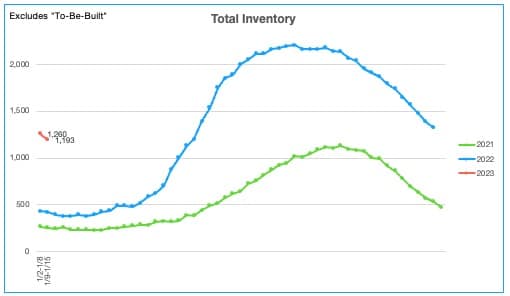 Months of Inventory
Last week's pending & home for sale activity resulted in a 1.9 month inventory rate. That is the lowest inventory rate since May '22 and a strong indicator of the current market pressures.
That lowering inventory rate was certainly helped by the lowering interest rates. Rates have come down roughly a full percentage point from where they were about 2 months ago. Check the most current interest rates here.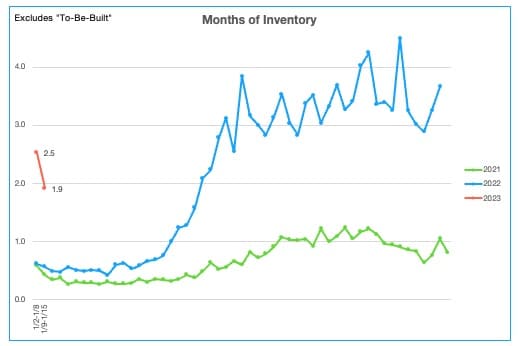 Building Permits
Pioneer Title tracks the number of building permits in Ada & Canyon County on a monthly basis and is a metric I follow that is "forward looking" for future homes for sale.
As indicated on their graph below, home builders have really hit the brakes on producing new homes since September '22.
The Ada County real estate market doesn't have an inventory issue (1193 homes for sale is historically low). So, seeing the building permits so low for the new construction supply-side of the market should continue to help the market work through its existing inventory.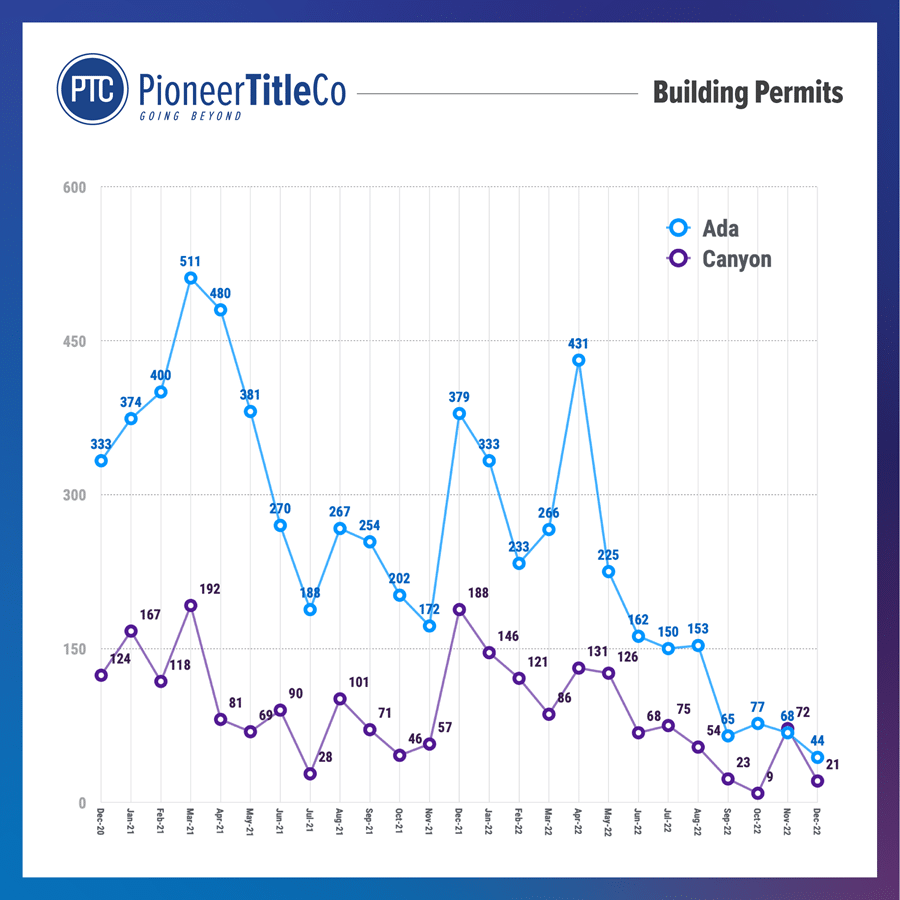 Boise Real Estate
For the Boise real estate market, there were 66 homes for sale that went sale pending – a 32% increase over the previous week.
The highest price pending sale was for a home for sale in Dry Creek Ranch for $1,950,000. The lowest price pending sale was for a home for sale on the Boise Bench.
| | | | | | |
| --- | --- | --- | --- | --- | --- |
| Date Range | Total Pending | High Price | Low Price | Average | Median |
| 12/26-1/1 | 35 | $ 998,900 | $ 299,900 | $ 526,932 | $ 499,900 |
| 1/2-1/8 | 45 | $ 1,900,000 | $ 299,900 | $ 547,453 | $ 459,900 |
| 1/9-1/15 | 66 | $ 1,950,000 | $ 268,000 | $ 582,206 | $ 492,206 |
Boise Real Estate Market Analysis
Current Market Analysis
Status
Area
No. of Listings
Dollar Volume
Average Price
Median Price
Average DOM
Listings Under Contract
66
$38,425,626
$582,206
$492,495
54
Boise North – 0100
4
$3,263,400
$815,850
$789,200
26
Boise NE – 0200
6
$5,271,900
$878,650
$974,000
39
Boise SE – 0300
5
$2,398,790
$479,758
$475,000
83
Boise Bench – 0400
9
$3,650,800
$405,644
$334,900
32
Boise South – 0500
4
$1,989,600
$497,400
$472,450
96
Boise SW-Meridian – 0550
14
$6,357,547
$454,111
$422,560
42
Boise West – 0600
5
$1,906,800
$381,360
$359,000
37
Boise W-Garden City – 0650
7
$3,458,689
$494,098
$389,989
81
Boise NW – 0800
11
$9,628,100
$875,282
$769,000
60
Meridian NE – 1020
1
$500,000
$500,000
$500,000
127
Subtotal
66
$38,425,626
$582,206
$492,495
54
Boise Real Estate Summary
Search Results Summary -66 Listings
Beds
Baths
SqFt
Listing Price
LP/SqFt
DOM
66 Pending Listings
High
6
4.50
5466
$1,950,000
$571
231
Low
2
1
840
$268,000
$161
0
Avg
3.42
2.33
2053
$582,206
$288
55
Med
3
2
1933
$492,495
$278
36