Ada County Real Estate
For the the final week of 2022, there were 84 pending home sales in Ada County.
Historically, the week before & after Christmas is the slowest in the Boise real estate market.
Of those 84 pending homes, 36 were new construction and 48 resale homes. Overall, there was 1321 homes for sale when this data was collected (1/4/23).
Of those 1321 homes for sale: 520 were newly completed new construction, 183 were under construction, and 618 were resale homes for sale.
At that pending home sale rate, the inventory rate was: 3.7 months overall, 4.5 months for new construction, and 3.0 months for resale.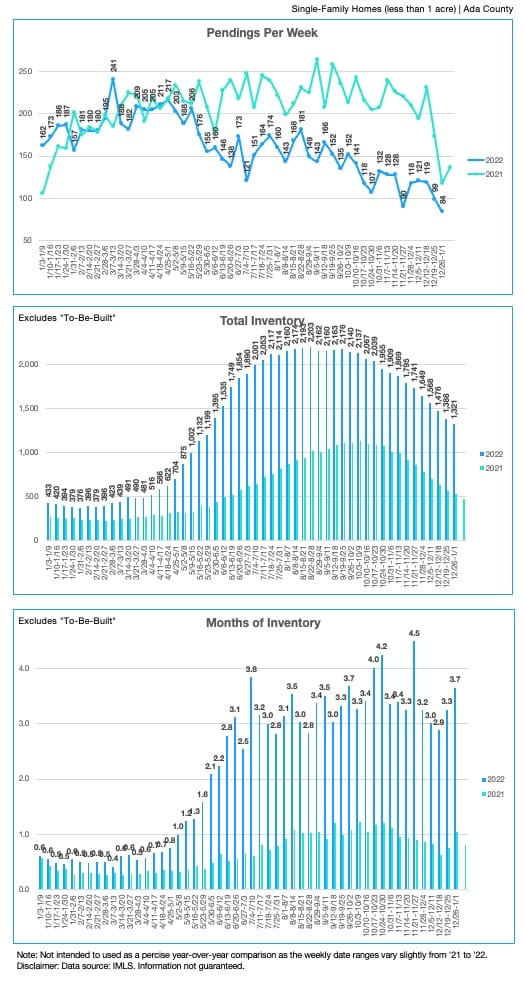 Boise Real Estate
For the Boise real estate market specifically, there were 35 homes for sale that went pending during that week. Here's a detailed breakdown of that data:
| | | | | | |
| --- | --- | --- | --- | --- | --- |
| Date Range | Total Pending | High Price | Low Price | Average | Median |
| 12/26-1/1 | 35 | 998,900 | 299,900 | 526,932 | 499,900 |
Boise Real Estate Market Analysis

Status
Area
No. of Boise Real Estate Listings
Dollar Volume
Average Price
Median Price
Average DOM
Pending
35
$18,442,648
$526,933
$499,000
77
Boise North – 0100
3
$2,477,000
$825,667
$764,000
77
Boise NE – 0200
2
$1,564,900
$782,450
$782,450
60
Boise SE – 0300
5
$2,889,700
$577,940
$674,900
42
Boise Bench – 0400
7
$2,954,700
$422,100
$435,000
55
Boise South – 0500
4
$2,121,800
$530,450
$502,400
66
Boise SW-Meridian – 0550
8
$3,747,758
$468,470
$474,444
113
Boise West – 0600
2
$764,890
$382,445
$382,445
92
Boise W-Garden City – 0650
1
$339,900
$339,900
$339,900
64
Boise NW – 0800
3
$1,582,000
$527,333
$528,000
108
Subtotal
35
$18,442,648
$526,933
$499,000
77
Boise Real Estate Summary

Beds
Baths
SqFt
LP
LP/SqFt
DOM
35 Pending Listings
High
6
4
3444
$998,000
$508
273
Low
2
1
988
$299,900
$180
1
Avg
3.51
2.30
1986
$526,932
$274
77
Med
3
2
1960
$499,000
$269
64