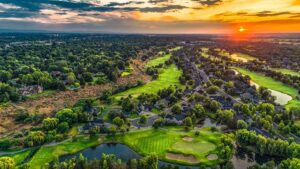 Back to Eagle Real Estate
Buying one of the homes for sale in BanBury in Eagle, Idaho is like making friends with the morning sunrise. While other people may groan as the first rays of light seep through the windows, people who bought BanBury real estate know it's the best time to be out on the golf course. And if you live in BanBury, you know it's right outside your backdoor. Literally.
While you may not be able to get right out of bed and onto the greens, life at BanBury in Eagle makes the process of waking up all the sweeter. Looking out the glass door that takes you from your bedroom to your backyard, you steal a cup of coffee from the coffee maker you keep in your room and head outside. You hear the ring of laughter as a group of golfers stroll along the greens on their way to the next hole. You wave at each other, and you decide you definitely need to be out on the greens.
Search all MLS Homes for Sale!
Banbury Homes for Sale
While homes for sale in BanBury in Eagle, Idaho vary in their construction, making each one unique, they do share some very common features among them. Whether you buy a home in Upper Banbury or Lower Banbury, you're guaranteed to have a living experience that immerses you in beauty.
The houses in Upper Banbury are in the older part of the subdivision and mostly on 1 acre+ lots. A person buying one of the homes for sale in BanBury in Eagle would gravitate toward this section of BanBury if he wanted a bit of visual variety in his neighborhood. It's not unusual to discover that the ranch-style home you're interested in sits in between a colonial-style house on one side and a thoroughly modern one on the other side. Like its neighbor down the hill, the neighborhood is filled with beautiful lawns, tranquility and flower beds.
The stunning landscaping of many of the yards in BanBury blends almost seamlessly with the landscaping of the BanBury Golf course. This counts as one of the main reasons why people love living here. This premiere golfing club was names a top 10 golf course in Idaho by Golf Digest. It's easy to see why. With over 800 new trees, Kentucky Blue Grass, challenging waterways and of course, golfers who are ever in good spirits.
There's also a 110 by 340-yard driving range and a teeing area of one-and-a-half acres. The golf pro on-site at BanBury Golf Course offers lessons for those who'd like to improve their scores at their next golf tournament. And when your golfing day is done, you can meet your family for lunch in the restaurant for a BanBury cheeseburger or Caesar salad. It's just what you need to fuel you for your next adventure for the day.
That's one of the great advantages of buying real estate for sale in Eagle. State Street — old and new — provides a main thoroughfare through the city, and in just a few minutes' time, you'll be on I84 and Highway 55, depending upon which direction you're headed. The city lies minutes away from Boise and Meridian and under a half hour from Nampa.
This Eagle location offers you the best of everything that the Treasure Valley has to offer. On the one hand, you gain access to all the businesses and services in Eagle that you need, including the St. Luke's and St. Al's satellite facilities. On the other hand, you live close enough to Boise and Meridian to catch great movies, find excellent places to shop, look for new restaurants — as if the ones in Eagle weren't enough — and of course, connect with some of the most impressive employers in the Northwest.
Additionally, you'll find that the City of Eagle provides you with an excellent place to raise your kids. Aside from the safety of the BanBury subdivision itself, your kids will have access to one of the best school systems in the Valley. State-of-the-art equipment paired with some of Idaho's best teachers mean that you'll never worry about your kids or worry that they'll be unprepared for the world once they live high school and move onto college life and beyond.
But all of these amenities won't mean anything without finding a home that's safe and that grows with your life as you need it to, which means if you need a house with an open kitchen/ den floor plan, because you entertain family and friends a lot, you'll find what you need at BanBury. Or you may want a piece of BanBury real estate that has abundant wall space so that you can hang your extensive art and tapestry collection.
And it could be that you need the opposite — you want big banks of windows overlooking the outdoors and the golf course to keep your disposition sunny year round. It's also likely that you may want a home that features any number of these features plus a corner fireplace, a three-car garage or one more bedroom than you have right now. Regardless of what you want, it's likely that you'll find what you need if you purchase one of the homes for sale in BanBury in Eagle, Idaho.
Sorry we are experiencing system issues. Please try again.