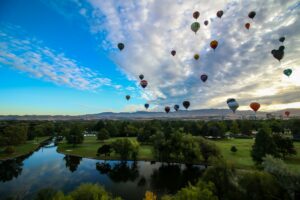 Nationwide, few cities the size of Boise City offer the incredible array of public parks and open space recreation available here. From large, long-established, showcase, riverside parks that represent the city's crown jewels complementing a spectacular recreational river resource, to outlying neighborhood and local parks that service the needs of many neighborhoods, there is something for people of every age to enjoy.
Over 100 such park venues throughout Boise, each with its own personality, offer fulfilling outdoor experiences for adults, families, children, civic groups, and educational institutions. All the parks mentioned offer recreational amenities and restrooms. Smoking is generally prohibited in all city parks and facilities and within 20 feet of the greenbelt.
A few of the most famous and noteworthy parks lead this list followed by smaller facilities that generally serve their own local areas.
Find homes for sale near these parks using our mls search or learn more about the Boise real estate market.
Julia Davis Park
700 N. Capitol Blvd.
The nearly 90-acre Julia Davis Park located near downtown Boise is home to some of most popular visitor attractions in Boise. These include Zoo Boise, the Boise Art Museum, the Idaho State Historical Museum and the Idaho Black History Museum.
The park also contains many varieties of mature, beautiful trees, a formal Rose Garden, two pavilions, a six-court tennis venue, playground and a portion of the Boise River greenbelt. Large, manicured turf areas are suitable for a variety of outdoor activities.
The donation of 43 acres of land by Thomas Davis in 1907 marked the birth of this park. Davis donated the land in memory of his wife, Julia.
Amenities: Birding sites, public art, 16 horseshoe courts, bocce ball, reservations for Rose Garden/Band shell, playground with swing sets, greenbelt access parking, restrooms, six tennis courts.
Ann Morrison Park
1000 N. Americana Blvd.
In a gorgeous setting within 153 acres, Ann Morrison Park runs beside the Boise River near downtown Boise. Generous facilities ensure that this park is one of the most heavily visited in Boise. These facilities include: a playground, tennis courts, lighted softball diamonds, soccer, cricket and football fields and a picnic pavilion.
Downriver from the pedestrian bridge that crosses the river, the park features river access and many people find this a pleasant place to fish. An available tree-walk brochure leads visitors on a self-guided tour throughout the site.
The park was donated to the city of Boise in 1959 by entrepreneur Harry Morrison, co-founder of Morrison-Knudsen, Inc., a heavy-construction company. He built the park to honor his late wife, Ann. His dream was to build a lovely place where families could enjoy outings together.
Amenities: Two softball fields, 19-hole disc golf course, eight soccer fields, three horseshoe pits, two tennis courts, volleyball court, reservations for shelter, greenbelt parking, bocce area, cricket field.
Kathryn Albertson Park
1001 N. Americana Blvd.
Considered a special use park, Kathryn Albertson Park is a wildlife sanctuary. Located near downtown, it is a place of peace and quiet with wonderful opportunities to view wildlife inside a busy city.
Mature trees and native vegetation specially chosen for wildlife compatibility, feeding, nesting and protection exist through this 41-acre site. On any given day a visitor might see waterfowl, herons, song birds and deer. Birds are especially attracted to the park and these include: California Quail, Buffleheads, Great Blue Herons, Mallard ducks, and Yellow-headed blackbirds.
Other wildlife call the park home too. Visitors often see salamanders, painted and box turtles, bullfrogs, raccoons, beavers and rabbits.
The park derives its name from Boise native Kathryn Albertson, wife of grocery magnate Joe Albertson.
Amenities: Reservations available for two ceremonial sites, restrooms.
Camels Back Park
1200 W. Heron St.
The name Camels Back derives from the tall, humped, dry foothills at the back of the developed 11-acre traditional recreation section. In the hills a person can walk or ride a bike for miles and see beautiful sunsets from the hilltops. The park is just minutes from downtown Boise.
Developed largely by individual and organization donations and dedicated in 1965, Camels Back Park is a special place for Boise's North End residents. The developed area of the park offers plenty of room for several kinds of sports and a playground for young children.
Amenities: Grass practice fields, four tennis courts, one volleyball court, playground with swing sets, reservation picnic areas and access to the foothills.
Winstead Park
6150 W. Northview St.
Located on the Boise Bench, popular Winstead Parks 11 acres was purchased by the city in 1965. It is one of Boise's few parks that offer dog off-leash areas. In addition, local residents enjoy its many special-purpose recreational opportunities.
Amenities: Playground with swing sets, open play areas used by sports teams, dog off-leash areas, walking path, four tennis courts, two grass soccer fields, shelter available for reservations.
Williams Park
300 W. Williams St.
At just under eight acres, Williams Park in southeast Boise has much to offer. As with many of Boises other parks, the land was donated.
Cooperatively, the city and citizens of Boise, and Garfield Elementary School agreed to take the site donated in 1980 by Darrel and Marian Leatham and develop it into a lovely and needed neighborhood park. The park offers activity areas for both young children and sports-minded adults.
Amenities: Two playgrounds (ages 2-5) and (ages 5-12), four tennis courts, one basketball court, restrooms.
Barber Park
4049 S. Eckert Road
Although Barber Park is located in the county outside Boise city limits, about six miles east of downtown, it is extremely popular as the starting point for Boise River rafting, kayaking, canoeing and tubing during the summer.
Boise River water-lovers will find rafts and tubes for rent in the park and air stations for filling their own equipment. From mid-November through mid-March wintering bald eagles are often seen perched in large cottonwood trees watching the river for fish. The park is open all year.
Barber Park is an excellent place to observe wildlife. More than 121 species of birds live here, from bald eagles to black-chinned hummingbirds. Foxes, squirrels, and garter snakes are residents. Mule and whitetail deer, beavers, raccoons and mink frequent the area. Barber Parks cottonwood forest provides valuable habitat for tree-nesting birds (wood ducks, owls, flickers, and others). An occasional elk enjoys this habitat too.
Amenities: Education and Event center, covered patio, picnic tables and barbecue grills, playground equipment, and numerous pathways.
Baggley Park
1411 E. Parkcenter Blvd.
Another small park located in southeast Boise, Baggley Park was bought with federal Land and Conservation funds. Boise City obtained this 7-acre park in 1977 and named it after George Baggley, a long-time member of the Boise Parks and Recreation Board of Commissioners.
Both children and adults have many choices when visiting Baggley Park, from safe and fun playground areas to picnicking to active sports.
Amenities: Two basketball courts, two playgrounds (ages 2-5) and (ages 5-12) with swing sets, greenbelt parking, art murals, one volleyball court, grass play areas, grass practice fields, two tennis courts, picnic shelter.
Helen B. Lowder Park
3450 S. Law Ave.
The ever-popular southeast sector of Boise has yet another small neighborhood park so valuable to growing areas. The five acre Helen B. Lowder Park honors a Boisean who helped guarantee the preservation of foothills open space in perpetuity.
Formerly known as Centennial Park, this site packs much recreational and leisure opportunity into a small area. There are dedicated places for children to play and for adults to work up a sweat kicking soccer balls and developing their hook shots.
Amenities: Two basketball courts, grass practice fields, interactive-play art display, two playgrounds (ages 2-5) and (ages 5-12) no swing sets, grass play areas, restrooms.
Ivywild Park
416 W. Ivywild St.
There are just six public swimming pools in Boise and Ivywild Park boasts one of the nicest. This park of about 18 acres features a large main pool with a pretzel slide and two drop-off slides.
The main pool, as does the wading pool, has a safe zero-depth entry and the sides of the main pool are variously curved. Children six years old and younger are welcome at the wading pool.
Amenities: Grass play areas, playgrounds (ages 2-5) and (ages 5-12) with swing sets, reservation covered shelter, four tennis courts, two softball fields, and two grass practice fields.
Veterans Memorial Park
930 N. Veterans Memorial Pkwy.
Through the cooperative efforts of the Boise Parks & Recreation department and the State of Idaho, Veterans Memorial Park effectively became a city park in 1997 via a lease agreement. This heavily treed park with manicured lawns combines the offerings of a traditional manmade park to the north with a natural woodland and wildlife area to the south that borders the Boise River.
Military veterans who served our country are honored here by several memorials and monuments to those who sacrificed by serving. Get on your bicycle at the convenient parking lot and travel anywhere the paved pathways will take you, including the entire length of the greenbelt.
Amenities: Fishing in stocked ponds and along Boise River, greenbelt access parking, two playgrounds (ages 2-5) and ages (5-12) no swing sets, grass play areas, reservations for picnic areas and covered shelter.
Elm Grove Park
2200 W. Irene St.
A lovely, quiet, intimate North End site, Elm Grove Park is a perfect 3-acre neighborhood location to take the family. Whether you simply want a place to enjoy a picnic or want to engage with friends in sports activities, this a fine site to do either.
Amenities: Grass play areas, one grass softball field, two tennis courts, one basketball court, one playground (ages 2-12) with swing sets.
Marianne Williams Park
E. Warm Springs Ave.
The former site of Barber Mill, a large lumber operation early in the last century, will join the list of Boise's treasured riverside parks as a respite for wildlife and people alike. The 70-acre parcel, donated by Larry Williams in honor of his wife Marianne, will emphasize undeveloped areas for wildlife protection and also provide an improved area for peaceful, traditional activities such as picnics, barbecue outings, contemplative walking on paved pathways, and fishing.
The park's concept focuses on protecting, reclaiming and enhancing important riparian and wetland values. The greenbelt will run along the Boise River through the park.
Greenbelt Linear Park
From Lucky Peak Dam to Eagle, ID
Although the greenbelt isn't a park in the conventional sense, it is an important intertie to several Boise parks and the Boise River. Running over a stretch of approximately 25 mostly-paved miles from east to west, connecting several different existing parks and following the Boise River, the greenbelt is used by thousands of bicyclists and pedestrians throughout the year.
The greenbelt pathway is one of the most valued assets to city residents and visitors alike and not only provides a recreational opportunity but also an alternate transportation path within the city.