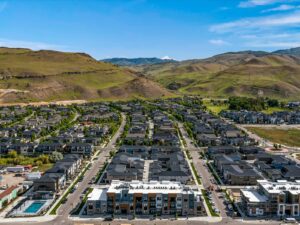 Back to NE Boise Real Estate
Harris Ranch is a part of a master planned community located in Barber Valley. About 15 minutes to downtown Boise, Harris Ranch is nestled by the foothills to the North and the Boise River to the south. Outdoor recreational opportunities abound in this area with access to the Ridge to Rivers trail system, Lucky Peak Reservoir, and the Boise Green Belt. The homes for sale in Harris Ranch are made of up several neighborhoods including Spring Creek at Harris Ranch and the Mill District.
Harris Ranch Lifestyle
To really be able to live where you live. Now that's a luxury that few people anywhere enjoy. Most people living in suburbia today accept long commutes from home to work, being disconnected with their neighborhoods and giving their families only a few hours of their time at night. That's all they have. But those who are lucky enough to have purchased one of the homes for sale at Harris Ranch experience something different. By design, the subdivision rewards those who want a short commute to work, access to the pristine waters that make the Treasure Valley so attractive to outdoor enthusiasts and a close connection with neighbors and family — most because there's time.
It's a beautiful place to wake up each morning, Harris Ranch. As the sun begins to crest over the top of the foothills, an automatic timer on the coffee maker starts the coffee going in the kitchen. But that cup of Joe will have to wait. Outside, the beauty of the Boise Valley calls to you. Out on the back patio, you grab your bike and head for Marianne Williams park, which is just minutes away. You wonder…will it be a jog in the grasses or will you just sit on the bank of the water and watch the geese and the ducks chide their babies to move a little faster as they paddle through the waters. For many living in Harris Ranch in Boise, Idaho, the jaunt from door to destination is fewer than 20 steps. While the park may lie further away than that for some, it's still close enough that it provides a real early morning boost before setting off to work.
As you sit at the park, you think about the day ahead. You imagine leaving your garage and heading out of the neighborhood. You make a mental note to chat with your family after work about a possible dinner excursion to Flying Pie Pizza, which is within walking distance and in the subdivision itself. Or, you ask yourself, is it a really special night, which then would call for Shakespeare under the stars; you can reach that by bike from your house.
Or maybe you should scrap your evening plans all together and suggest to your family that you take a Saturday morning float trip down the Boise River. It, along with the Boise Greenbelt and Barber Park, is located minutes from your Harris Ranch home in Boise, Idaho. A smile crosses your face. Barber Park sounds good. And maybe a barbecue in the park after your family pulls the boats that you rented at Barber Park out of the water. It's a definite perk of living in Harris Ranch in Boise.
You reflect on other neighborhood niceties. Although some people who have bought one of the homes for sale in Harris Ranch in Boise, Idaho do have a traditional commute to work, the neighborhood itself is designed to be a place where long commutes don't have to be the norm. It isn't for you. You picked the neighborhood, because within the plans of the subdivision are areas where people can have offices as well as a local post office or even coffee shop. The idea behind this live where you live philosophy stems from the idea of the New Urbanism.
In direct contrast to the urban sprawl that has taken up so much of a community's livable space, proponents of this way of building and living embrace it because of the simplicity that it brings to a person's life. That's what attracted you to this place. The simplicity and the close connection you enjoy with neighbors and family. It's something you ponder as you head back to the house for your morning coffee after you finish your morning excursion to Marianne Williams Park. Perfect.
Search all MLS Homes for Sale!
Sorry we are experiencing system issues. Please try again.