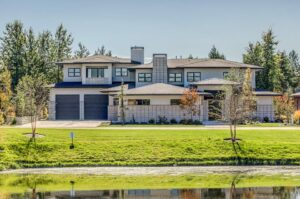 Back to Eagle Real Estate
For people who want to own Eagle, Idaho real estate, where serene waters flow and where life centers around this serenity, there's nothing better the Mace River Ranch homes for sale. The whole subdivision embraces the ecosystem around the Boise River and numerous on-site ponds. In fact, 40-acres of the 192-acre subdivision remains undeveloped, allowing the people who buy the homes for sale in Mace River Ranch to enjoy a Walden Pond-like atmosphere in the heart of the Treasure Valley.
More Information on Mace River Ranch
So what can you expect from the 40-acres+/- of undeveloped/open land at Mace River Ranch? Consider what this area must have been like in the late 1800s? One would expect it to be unspoiled and teeming with wildlife like trout, water birds, and other species. Additionally, habitats for these animals includes the green and fragrant flora you'd expect to see in a nature preserve. The levels of green here have, in fact, been returned to the state they were in during the late 19th century. When you buy a home in Mace River Ranch, you'll be able to enjoy this area in all its glory — everyday if you'd like, either on your daily strolls or on a bike ride down the one-mile of greenbelt that traverses the area.
Aside from this, you'll be able to partake in what the rest of the acreage has to offer. The homes for sale in Mace River Ranch will sit in a community that consists of 218+/- lots. Your new home provides you with a different kind of refuge than you'll find in the woods near your house. In the mornings, you can watch the gentle snows of winter fall as you sip on your tea from your master suite. You'll be cozy as the fire crackles at the foot of your bed. In the summer, you can take your tea outside and lounge on the covered patio off to the side of your bedroom. Large walk-in closets and plenty of other areas to store things will make living here comfortable.
Breakfast, lunch, and dinners go from ordinary meals to lovely affairs in your gourmet kitchen. Lovely granite countertops provide you with plenty of space to slice the fall vegetables that you got from the Eagle Farmers Market or to prepare a London broil for a holiday meal. High-end appliances like an industrial refrigerator or 6-burner stove make meal prep convenient. Eat small, informal meals like breakfast or lunch at the breakfast bar. Have dinner in a more formal setting in the dining room. These settings are warm and inviting and provide a more intimate place for you to get to know family and friends.
However, if it's a more public and engaging setting that you want, the homes for sale in Mace River Ranch sit close to some of the best entertainment, recreation, and business offerings. For example, you may find yourself floating on a inner tube in the middle of the lake at Eagle Island State Park. Or perhaps, you'll catch up with friends over an Americano at Rembrandt's Coffee House. Lively conversation, delicious coffee and pastries and beautiful art are the name of the game here. When you invest in Mace River Ranch homes, these destinations are practically just beyond the river's edge of your neighborhood.
Additionally, if you buy one of the homes for sale, you won't have to worry about accessing the services you need, either. While it's true that you'll live in the Treasure Valley and therefore, have access to all that this location can offer, many of the services you need are right in town. Eagle, Idaho has offices for both St. Luke's and St. Al's, where you can access services as diverse as health counseling to getting a sprain bandaged up. As well, there are plenty of banks, places to go grocery shopping and of course, schools and educational institutions as well.
Mace River Ranch is one of Eagle's newest subdivisions. If you're interested in touring a piece of Mace River Ranch real estate or want information about a home, including custom homes, contact us today to learn more!
Search all MLS Homes for Sale!
Sorry we are experiencing system issues. Please try again.