Back to Boise Real Estate
In Boise's North End, a soft hum of voices wafts through the air above the crowd sitting outside the restaurant that used to be the Lucky 13 and is now Sun Ray. It's like jazz music crafted from the human voice. In the street melodies, the baritone voices of local businessmen echo and the laughter of children, which tinkles like little bells, brings an air of innocence and gaiety to the evening air. Occasionally, a dog on a leash barks bellows like an ancient gong as he and his owner stroll by the daily festival that is joyous soundtrack to the lives of the people living here.
No doubt about it. Northenders are a special group of people living a special kind of life–in love with their children and their dogs, active participants in do-good charity activities, fruit and flower gardeners, and enjoyers of good food and drink and of time spent with friends and families. These people are young at heart, hip, and active.
And why not? Located just north of State Street, the North End real estate is known for being close to downtown Boise destinations as well as to places like Bogus Basin ski area, and North Boise living attracts an eclectic blend of people who are infatuated with the old Queen Ann-style houses, lovely tree-lined streets, and access to the best schools, shopping, and eateries. It's for this reason that listings for North End Boise homes for sale often cite these very amenities. But these elements aren't just statistics in a real estate booklet or website. They arise from the history and vibe of this area of town, which became the building blocks for the area we now know as the North End in Boise.
Search all MLS Homes for Sale!
North Boise History and Background
Boise's North End had its official beginnings as a suburb of Boise in the late 19th Century. Although today it is one of the premier neighborhoods in town, it started out as a remote region of the city with little cottages and homes, which eventually spread out into places like Harrison Boulevard and Brumbach with both areas getting their names from events and people of historic significance.
The North End real estate back then and throughout the first years of the 20th Century reflected an array of architectural styles, and Harrison Boulevard proved to be one of the crown jewels in the area. The street with its rows of tall, mature trees got its name from none other than President Benjamin Harrison. His visit to the city in the late 1800s inspired Jeremiah Brumbach and with the city council to change the name of the street, which before the name change was called 17th Street. At that time, city residents in search of North End homes for sale were treated to an array of choices; among them were homes created in styles like Queen Ann, Revival, and Tudor Modern. It was a good time to be a Northender.
However, despite its illustrious beginnings, beautiful architectures, and stunning landscapes, North Boise's ride to city stardom proved to be rocky after the turn of the century. Just over a half a century later, the region began seeing some very serious decline. After the second World War, concerns about the conditions of the neighborhood arose; it went from being a place with a street named after a U.S. President to a near slum by the 1960s.
But in true North End spirit, a group of citizens spearheaded a bit of neighborhood activism to restore North Boise to its former glory. The area saw improvements in planning and zoning laws, which worked to prevent many of the area's old homes from being broken up into apartment buildings.
Instead, by the 1970s, homeowners received incentives like low-interest loans from the city for keeping up their North Boise homes and for helping them to retain their historic character of these structures. The 1970s also saw the formation of the North End Neighborhood Association, a driving force in the care and maintenance of this historic part of town.
It wasn't just places like Harrison Boulevard that benefited from the gradual improvements to the area. Improvements to street lighting and furnishings and other visual amenities assisted in revitalizing one of the most used areas of North End real estate–Hyde Park.
By the beginning of the 21st Century, North Boise the neighborhood had come full circle. Community involvement and neighborhood beautification efforts were at an all-time high, attracting more and more people to the area to look at North End homes for sale. Unlike in centuries past in which the North End lay just beyond the outskirts of the town proper, people buying North End real estate today enjoy living in a thriving neighborhood filled with the smells of fragrant flowers in the spring and summer, excellent area schools, including Boise High School, (which was saved from demolition by the North End Neighborhood Association), and area attractions. With the children's art school, TRiCA, the Hyde Park Street Fair, Basque food fair, and the rolling hills surrounding the area, there's always something to do in this historic neighborhood.
Attractions/Amenities of the North End
With its proximity to downtown, backdrop of rolling hills filled with myriad trails, and thriving arts scene, there's always something to do in North Boise. The following listings represent some of the best activities that the area has to offer.
Camel's Back Park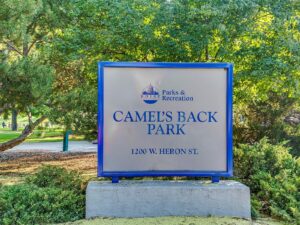 Camel's Back Park–no doubt named for the big hump of a hill that neighborhood kids so love to sled down–has been an official piece of North End real estate since 1932. Former mayor, Bernard Lemp obtained the park on behalf of the city, and since its acquisition, it has been a city mainstay for fun, picnics, hikes, and volleyball. Eleven acres of Camel's Back Park are developed, and today, Camel's Back amenities feature tennis courts, access to the foothills, a playground, and places to set out a picnic.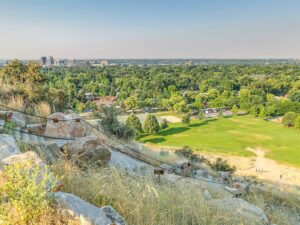 In recent years, the park has become a pet project of Ridge to Rivers. Because of Camel's Back hill's stellar views, ready access to the foothills for a quick walk with the dog, and attractiveness as a site of adventure for kids at play, the plants and grasses of the park have taken quite a beating. In true North End spirit, the park has become a pet restoration project for many Northenders.
Hyde Park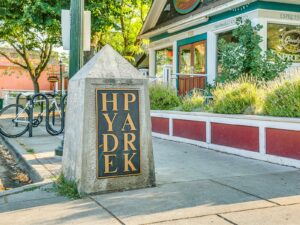 The magical place that is Hyde Park is also one of the city's great ironies. Not a park at all, but rather an area in North Boise known for its delicious food fare and local shops, the Hyde Park Historic District–it's official name–and nearby Camel's Back Park are home to the Hyde Park Street Fair each year (as well as the hub of North Boise life). A pet project of the North End Neighborhood Association, the Hyde Park Street Fair features live music, yummy street food, a place for kids to hang out, and a parade.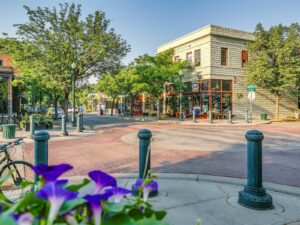 Elm Grove Park
Located a couple of blocks away from Camel's Back Park on Irene Street, this little three acre park is like a little sister to the bigger park with its picnic area, playground, and tennis courts. There's also a backstop for a quick game of softball between neighborhood kids and a restroom for park users' convenience.
Ridge to Rivers Trail System
There's one thing about the North End that makes even people not looking to buy North End real estate come in droves to this area, the trails. The Ridge to Rivers Trail System is a public service produced by Boise Parks and Rec, which highlights and preserves the trails around Boise. Many of these bike and walking paths have their trail beginnings in North Boise.
The Ridge to Rivers Trail System website gives hikers and cyclists up-to-date information about trail conditions in and around the area and taps citizens and people who own homes in the area to be a part of the trail preservation efforts. Many Northenders who want to preserve Boise's outdoor destinations have made the Ridge to Rivers Trail System a pet project because of their love for the hills and trails surrounding their North End homes.
Ridge to Rivers offers all types of hikes and rides with some catering to families and other catering to people with dogs and even some equestrian areas. It's the nearness of North End real estate to these outdoor adventure areas that make many people seek out North End homes that are for sale to be closer to these rich natural resources.
Boise Co-op
The Boise Co-op is a haven for the Northenders who gravitate toward nutritious eating habits and an all-around healthy lifestyle. This North Boise fixture was started in the early 70s by a group of people who wanted to be able to buy delicious, good-for-you food and not break the bank doing it. The initial offerings were mostly perishables, some bulk foods, and tasty sandwiches on fresh baked bread.
Today, the Co-op is the go to place in the North End to pick up gourmet meats, luxurious wines, vitamins and health supplements, and lunch in the deli. It's still member-owned, but today, anyone can become a member of this grocery and lifestyle staple.
Bogus Basin Ski Area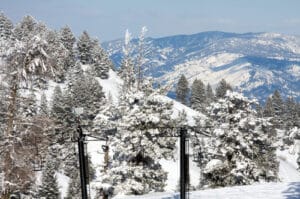 Just up the hill so to speak from North Boise is the city's own resident ski area. People living in North Boise can leave their homes and be at Bogus Basin inside of 45 minutes. This local ski destination offers numerous trails, ski and snowboard lessons, food on-site, and a shuttle bus for those who just want to enjoy the ride up the mountain.
During the summer, the pristine snow covered mountains give way to evergreen trees, singing birds, and people saying their "I do's" or getting away from for a retreat in one of Bogus Basin's lodges.
Although it's mostly known as the local ski resort, it's these amenities plus its closeness to North Boise that make it a popular destination year round for Northenders and a definite draw for people looking for North End homes for sale.
Featured Subdivisions

Sorry we are experiencing system issues. Please try again.