Kuna Real Estate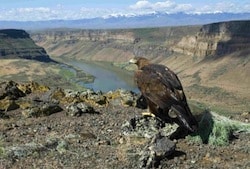 Kuna, Idaho real estate attracts home buyers looking for more home affordability than what is comparatively offered in most other areas of Ada County. Homes for sale in Kuna range from starter homes to many acreage and farm properties. Some residents live and work in Kuna while others commute to some of the larger surrounding cities like Meridian and Boise.
Located 18 miles SW of Boise, Kuna real estate has more of a rural, small town feel. Kuna, Idaho is home to about 26,000 people in 2021 and has been one of the fastest growing communities in Idaho.
"Kuna" means "the end of the trail" (1). The name comes from being at the end of a historic railroad line that came from Boise. Originally, the area was mostly desert. However, as people began to settle in the area they eventually built an irrigation canal (Indian Creek) turning much of the area into productive farm land.
Today, the real estate landscape in Kuna looks much different. Farm ground has given way to many subdivisions. While you can still find farm and acreage property, most of the homes for sale in Kuna are located in subdivisions built in the last 10 to 20 years.
Housing Characteristics of Kuna Homes
The American Community Survey completed by the US Census can be a great source of information about a community. Homes for sale in Kuna tend to be newer homes, have more bedrooms, a lower price, and a larger household size than most of the surrounding cities. Most people in Kuna own their homes rather than rent. See below for breakdowns for some demographic information on the Kuna, Idaho housing data (2).
Housing
| | | |
| --- | --- | --- |
| Owner-occupied housing unit rate, 2017-2021 | | 80.1% |
| Median value of owner-occupied housing units, 2017-2021 | | $267,300.00 |
| Median selected monthly owner costs -with a mortgage, 2017-2021 | | $1,534.00 |
| Median selected monthly owner costs -without a mortgage, 2017-2021 | | $301.00 |
| Median gross rent, 2017-2021 | | $1,469.00 |
Kuna Population
| | | |
| --- | --- | --- |
| Population Estimates, July 1 2021, (V2021) | | 26,673 |
| Population estimates base, April 1, 2020, (V2021) | | 24,131 |
| Population, percent change – April 1, 2020 (estimates base) to July 1, 2021, (V2021) | | 10.5% |
| Population, Census, April 1, 2020 | | 24,011 |
| Population, Census, April 1, 2010 | | 15,210 |
Age Distribution
| | | |
| --- | --- | --- |
| Persons under 5 years, percent | | 9.0% |
| Persons under 18 years, percent | | 34.7% |
| Persons 65 years and over, percent | | 8.8% |
Places of Interest in Kuna Idaho
The Kuna Caves – The Kuna Caves were formed from what once was a lava tube. Visitors come to descend into the cave that runs about 50 feet deep and about a quarter-mile north and south from the entrance.
Morley Nelson Snake River Birds of Prey – A National Conservation Area (NCA) established by Congress in 1993 to protect the world's densest population of Eagles, Falcons, Hawks, and Owls. The NCA encompasses 485,000 acres and is home to 24 species of birds of prey.
Initial Point Butte – One of the most common used methods for real estate surveying is the Public Land Survey System (PLSS). Most PLSS surveys across the U.S. begin at an "Initial Point". For Idaho, the Initial Point is in Kuna. From the initial point, a north-south line is created called the "Principle Meridian". As you might have guessed, Meridian, Idaho received its name because Idaho's Principle Meridian runs through it.
The Silver Trail – In the mid-to-late 1800s, real estate in Idaho was booming with mining (3). Both gold and silver brought immigrants in search of their share of the fortunes. Silver was discovered in the Owyhee Mountains, southwest of Kuna, in 1863. The Silver Trail was then constructed as a stagecoach route that connected the booming mining town of Idaho City to Silver City (4).
Dedication Point – Dedication Point in Kuna, Idaho offers a spectacular view of the Snake River Canyon. Dedicated parking just off the highway and a maintained 1/4 mile trail provide easy access for visitors to enjoy the canyon views and watch for birds of prey.
Swan Falls Dam – Swan Falls Dam was built in 1901 to supply electricity to nearby mining towns, such as Silver City. Swan Falls Dam is the oldest hydroelectric plant on the Snake River and was the first to generate three-phase power (4). The original plant was decommissioned and now serves as a museum. A newer plant replacing it was built in the 1990s.
No representation or warranty of any kind is made. User to verify all information.
1) http://www.kunachamber.com/Kuna.aspx
2) Supporting documentation on code lists, subject definitions, data accuracy, and statistical testing can be found on the American Community Survey website in the Data and Documentation section. http://www.census.gov/acs/www/
3) http://www.idahomining.org/ima/mhistory.html
4) http://www.idahobyways.gov/byways/western-heritage.aspx
Read More About NW Boise
Read more about Kuna Real Estate
Check out our advanced Boise MLS search
Kuna Homes for Sale

Sorry we are experiencing system issues. Please try again.