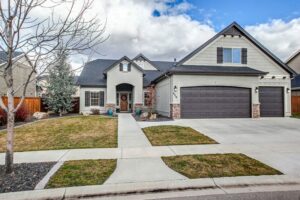 Back to N Meridian Real Estate
Once upon a time during the height what is now know as urban sprawl, connecting with one's neighbors, the arts in one's community and with life's necessary resources meant getting into the car for a sometimes lengthy drive. But at subdivisions like Paramount in Meridian, Idaho, life meets residents where they are at. On any given day, the people who have bought one of the homes for sale in Paramount sit on the grass in the village green and listen to an impromptu saxophone concert. Or they watch neighborhood children act out "The Wizard of Oz" or "Alice in Wonderland." There's no need to leave their neighborhood to experience the things that make life worth living.
But this kind of get-involved-in-your-neighborhood feel doesn't end when people leave the village green. This subdivision is the kind of place where kids ride go-carts and drop their bikes in their friends' front yard when they go down the street to play. In the summer, residents fill the streets with red, white and blue balloons and participate in a 4th of July parade. In the winter, they meet in the community center for the holiday cookie exchange and get to know one another over cookies and coffee.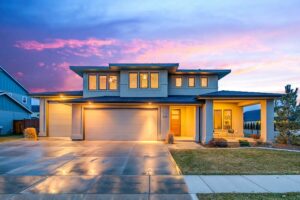 People buying homes in Paramount in Meridian will enjoy an integrated neighborhood. The developer and builders of this village community have mindfully planned the space with the aesthetic conventions of traditional European architecture in mind. Additionally, because of higher gas prices and people realizing that they'd like to experience life closer to home, neighborhoods like these resonate with them. To that end, people who look for homes for sale in Paramount in Meridian appreciate the on-site amenities that the neighborhood has to offer.
Paramount in Meridian, Idaho already includes quite a few amenities such as a community center with a pool and a kiddie pool. An event room, a catering kitchen, an exercise room and changing rooms are also in place currently. Future plans include additional swimming pools and a second community center. Aside from these tangible niceties, there's an online community for the neighborhood. This online resource helps residents locate items they might need for their homes or even a babysitter so that they can accept a last-minute invitation out for the evening.
The designs for Paramount also include plans for retail and office spaces. This design may play out out as shops that people can tuck into to grab a cup of coffee after work or set up a personal office space to run a small business. Additionally, two schools — Paramount and Rocky Mountain High School are located within the subdivision — and Heritage Middle School is just across Meridian Road. And all of these neighborhood amenities exist against a backdrop of historically inspired architecture in which street lamps illuminate the winding, tree-lined streets.
In addition to larger sq/ft & bedroom homes, there's also a number of smaller single-level homes. No matter your family size, Paramount has options.
Finally, none of the neighborhood niceties in Paramount in Meridian, Idaho would matter much if living here didn't also provide residents with quick and easy access to the world outside their neighborhood. Buying one of the homes for sale in Paramount puts people in close proximity to downtown Boise via I-84 or Chinden Boulevard.
Search all MLS Homes for Sale!
Sorry we are experiencing system issues. Please try again.