Boise's charm and appeal is multi-faceted. First, Boise is widely considered and nationally recognized to be one the Best Places to Live, Best Places to Raise a Family, Best Places to Retire, Best Places for Entrepreneurs, and so much more.
History & Community
Boise's roots started back in the 1830s when members of the Hudson's Bay Company founded what became the precursor to the Boise, Idaho of today, it's likely they had no idea that it would become the city that it has. Instead, laying eyes on the lush, green landscape after traveling over countless miles of high desert real estate they must have felt only relief at the sight of this Northwest oasis.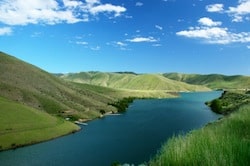 It's the same relief that weary travelers from the four corners of the United States and city residents alike must feel as they roll down the freeway and enter the city limits and head on into its suburbs. For them, the run into the fray ceases with the view of the City of Boise in their front windshield. Parking in front of their own personal patch of Boise, Idaho real estate — whether it be hotel or home, they pull suitcases out of the trunk or drag their briefcase and the laptop inside it from the passenger seat.
But Boise counts as more than just a place to rest a traveler's weary head for the night. The City of Trees and its precursor has been a place that thousands of people have called home since its inception 150 years ago. There is little mystery about why. The third largest city in the Northwest boasts excellent schools, a thriving tech industry, an array of outdoor activities to please any outdoor enthusiast no matter what the season and an eclectic arts scene, where both the Bard and the most unusual modern art installations can find an audience. These elements along with the numerous Boise homes for sale during any given month make this an ideal landing place with plenty of amenities for singles and families alike.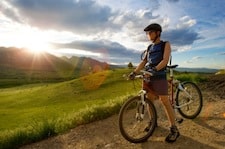 Outdoor enthusiasts love Boise, Idaho; the city's 25 miles of greenbelt caters to walkers, joggers and cyclists. These lifetime sports enthusiasts meander along, parallel for the most part with the Boise River as they make their way down what residents also call the "bike path." It cuts a blue-green ribbon through Boise and is largely responsible for why this Northwest city has earned the nickname "the City of Trees."
From the French "les Bois," meaning "wooded," the fresh water of the river makes its banks and beyond a fertile plain on which abundant trees, tall grasses and vibrant wildflowers bloom. In the summer months visitors to its shores play fetch with their dogs while digging their toes in the sanded banks. Summer revelers float by on inner tubes and rafts filled with coolers stuffed with cans of coke and apples to snack on. Along the way, they bump against low-hanging branches, jump out of their tubes occasionally to swim and pass by some of the most interesting Boise homes, situated right at water's edge.
While their adventures typically drop these summer water travelers off downtown in the Julia Davis Park area, they start their float at Barber Park, which is located near some pretty important Boise, Idaho subdivisions. Both Harris Ranch and Columbia Village both call this neck of the woods home as does Micron and the outlet mall.
The combination of having one of Idaho's largest and most important employers as well as quick access to shopping make this area of the city attractive to many. These newer developments, particularly Harris Ranch appeal to the person looking for Boise homes for sale, because they exist in neighborhoods in which people live where they live. Residents living in these environments enjoy short commutes to work and a host of amenities such as fishing, hiking, a night at Shakespeare under the stars or a slice of pizza washed down with a cold glass of beer at the Lucky 13.
Other places in Boise, Idaho aren't as self-contained, but still put the Treasure Valley right at the doorstep. Boise homes for sale closer to Cole Road and the Freeway give their residents quick access to the best of Boise, Meridian and Eagle, usually inside of 15 minutes. Aside from positioning residents near entertainment entities such as the Edwards 22-Plex in Boise and the Majestic Theater in Meridian, this area allows residents to shop at big box stores like Costco or Walmart, look for items for home improvement at Lowe's or catch the freeway to participate in Live After Five.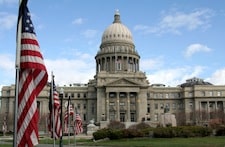 The Boiseans from the outskirts mingle with those who have decided to fully embrace city living by buying one of the downtown condos. These sky rise dwellers enjoy a bird's eye view of the city below from their balconies high above the pedestrian zone of the Grove. They gage the vibe of the activities below before heading out to have a bite of lunch at Bitter Creek Ale House or taking a jog through the streets of downtown Boise.
And downtown is a treat. It's a place that once a person arrives in its midst, it feels like the kind of hometown that Norman Rockwell would have painted. Important city-wide events such as the Twilight Criterium bike race and the Idaho Women's Fitness Celebration take place on downtown Boise, Idaho.
On city sidewalks, people visit with long-time friends over a glass of wine at the Grape Escape or share stories over a plate of Chinese food at Yen Ching. At the Saturday Farmer's Market, organic food growers sound like auctioneers as they peddle their wares to passersby. It's a game that neither really wins and nor is that the point. Instead, each party enjoys the camaraderie that comes from supporting their neighbors' efforts as well as the appearance of the summer sun, which emerges from behind the mountains that surround the City of Trees.
Walking a little further up the street beyond the market and heading toward Capitol Boulevard rewards the street-bound adventurer with views of one of the most visually stunning and lush pieces of Boise, Idaho real estate. During its heyday, the historic Boise Train Depot welcomed passengers to the City of Trees, offering them a landing place for weary, travel-worn feet and slightly battered suitcases and steamer trunks. Even today, it's like a beacon of hope above the city's downtown area, and it counts as a popular place for people to have senior portraits done as well as fish watchers, who love to see the koi fish playing in the ponds on its grounds.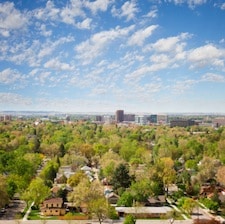 The downtown area includes not only downtown proper, but in spirit, the North End. In spite of being the third largest city in the Northwest, plenty of people find the city to be safely accessible by bike, and the savviest city residents actually don bike helmets during the warmer months, lace up their riding sneakers and embark upon a two-wheel commute to work. Because the City of Trees boasts such interesting neighborhood development, these warm weather riders often experience views of prime Boise, Idaho real estate up close and in a way that driving a car to work each day cannot provide.
People and environment are not separate here, and the city draws people in from all over. As a National Geographic article about Boise, Idaho rightly pointed out, people flock to the City of Trees because of its location at the foot of the Rocky Mountains, its proximity to the Boise, Payette and Snake Rivers and its easy access to coffee shops, world class restaurants, shopping and a place to call home when the day is done. And although the city's landscape has changed much in the last 150 years since Boise's founding, people still flock here to buy Boise, Idaho homes for the same reason they always have. Living in a piece of Boise, Idaho real estate is a relief for the weary body and the city is an elixir for the soul.
Boise, Idaho is located in Ada County, Idaho. Ada County is comprised of Boise, Meridian, Eagle, Kuna, and Star Idaho. To learn more about what these areas have to offer, please visit the links below. If you would like more information or have questions, please don't hesitate to contact me.
Search all MLS Homes for Sale!
Boise Accolades
Boise, Idaho is a wonderful place to live and has been consistently recognized as one of the best cities in America for its low cost of living, employment, and recreation. Here are some of Boise's most recent accolades for the Boise area.
#2 Boise Best Run Cities in America (WalletHub, June 2022)
Next Great Food City (Food & Wine, April 2022)
#1 Most Promising US City (RocketHomes December 2021)
#4 Best City for Early Retirees (SmartAsset, December 2020)
Best Places to Retire (Forbes, August 2020)
Urban Adventure: Where to Find The Outdoors In Town (Boise #5) Marmot, September 2017
Top 10 Best State Capitals to Live In 2017 SmartAsset.com, September 2017
3 Up-and-Coming Culinary Destinations to Visit in the West U.S. News, August 2017
#1 Top Performing Economy (Idaho) Bloomberg, August 2017
Best Run City in America (Nampa #1, Boise #3) WalletHub, July 2017

Top 10 Cheapest States To Live In 2017 CNBC, July 2017
Best Rocky Mountain Secret, Top 25 Best Towns Ever Outside Magazine, June 2017
8 American Cities You Should Visit Before They're Too Popular Thrillist, May 2017
Top 20 Best Cities for Young Professionals Forbes, May 2017
North America's Coolest Downtowns Expedia, April 2017
#4 Best Places to Retire in 2017 Forbes, April 2017
11 Satellite Cities Poised to Thrive in 2017 Kiplinger, April 2017
Under-Appreciated American Cities You Should Totally Move To Thrillist, February 2017
Boise, 2017's 2nd Best Capitol to Live In WalletHub, February 2017
Top 10 Safest Driving Cities During Wet Weather Allstate, February 2017
#12 Best Places to Live U.S. News & World Report, February 2017
#3 Popular U.S. Growth Cities U-Haul, February 2017
Meridian #1 City for New Home Sales Curbed, January 2017
Vogue Ranks Idaho in Top 10 Hottest Travel Destinations of 2017 Vogue Magazine, January 2017
Top 25 Best Performing Cities Milken Institute, December 2016
Meridian #2 Best City to Live In 24/7 Wall St., October 2016
#4 Best Midzise Real Estate Market WalletHub, August 2016
#3 Best Midsize City for First-Time Home Buyers WalletHub, July 2016
Top 10 City for Active Families Outside Magazine, July 2016
Idaho Ranked #1 in Job Love Monster & Brandwatch, July 2016
#8 Best City for Recreation WalletHub, July 2016
#5 Best Drivers in Country AllState, July 2016
#4 Best State to Practice Medicine Medscape, June 2016
Idaho Ranked the Hottest Job Market Kipplinger, June 2016
Top 10 Best Cities for Summer Jobs WalletHub, May 2016
Top 10 Best Wine Region in America Sommeliers, May 2016
#1 Lowest Cost Metro in Pacific U.S. KPMG Competitive Alternatives, April 2016
Top 10 Best Air Quality Realtor.com, April 2016
#6 Best Place to Live U.S. News & World Report, March 2016
#3 Best Cities for Jobs this Spring Business Insiders, March 2016
Top 20 Americas Fastest Growing Cities Forbes, March 2016
Top 10 Best Places to Live 2016 – "The Revamped Rocky Mountain City" Men's Journal, March 2016
#6 Best Downtown Livability, March 2016
Top 10 Best Capital City WalletHub, February 2016
Top 5 Places for Millennial Startups Tech.co, February 2016
Top 10 Hottest Housing Markets of 2016 Zillow, January 2016
Top States for Job Growth – #6 Forbes, January 2016
#1 Most Caring City in America WalletHub, December 2015
#2 State for Volunteerism Corporation for National & Community Service, December 2015
#2 Most Artistic Mid-Sized City in America gogobot, November 2015
Meridian #1 Best City To Live In USA Today, November 2015
Top 20 Greenest Cities in America WalletHub, October 2015
Top 10 Best Towns for College Football Time Magazine, September 2015
#2 Best City for Millennial Entrepreneurs via FastCompany, September 2015
Top 100 Best Places to Live Livability, September 2015
#1 Best Corn Maze to Visit for Family Fun – Meridian, ID USA Today, September 2015
#3 State with Fastest Job Growth in 2015 Kiplinger via MSN Money, July 2015
The Next Top 10 Cities for Tech Jobs (Boise #7) via FastCompany, July 2015
#2 Top Up-And-Coming Cities for Recent College Grads Forbes, June 2015
#5 Best City for Freelancers Forbes via a Nerdwallet Study, June 2015
#1 State for Job Growth Governing.com, May 2015
Top 15 Fastest Growing Cities, Meridian, #9 Yahoo Homes, May 2015
#2 Best City to Move to in 2015 SML, March 2015
#1 City "Where the Jobs Will Be This Spring" Forbes, March 2015
#4 Best Place to Save Money Forbes, February 2015
#4 Best Travel-Worthy State Capital USA Today, January 2015
Top 10 Best Brunch Spots in America (The Fork, Boise) Mens Journal, January 2015
#11, The 35 Best U.S. Cities for People 35 and Under Vocativ, December 2014
#3 Most Charitable State WalletHub, December 2014
Best Under-The-Radar Destinations of 2015 Huffington Post, November 2014
Top 10 Best Museums for Kids – Discovery Center: Boise, ID MSN, November 2014
#1 Best College Football Field USA Today, October 2014
Top 10 Happiest States WalletHub, September 2014
#5 "Most Fair State Tax Systems" (Idaho) WalletHub, September 2014
Top 10 Best Places to Live Livability.com, September 2014
Top 10 Best "Big Cities for Active Families" Outside Magazine, 2014
Top 10 Places You Should "Dare to Go" on Your Global Adventure CNN, May 2014
#1 Best "Under the Radar Tech Hub" Sparefoot, May 2014
#1 Best City for Kids Livability.com, May 2014
#7 Best City in America – "Livability" AreaVibes, May 2014
Fourth-Highest Percentage of Residents Who Bike to Work U.S. Census Bureau, 2014
#7 Best Place to Raise a Family Forbes, April 2014
#1 Lowest Cost of Doing Business in the Pacific U.S. KPMG's Competitive Alternatives 2014
#1 Region "Getting it Right" TIME Magazine, March 17, 2014
#10 Best Place to Invest in Housing 2014 Forbes, February 2014
Top 24 Best Places to Live & Work 2014 Sunset Magazine, February 2014
Top 25 Best Places to Retire in 2014 Forbes, January 2014
#12 in Top 100 Places to Live 2014 Livability.com, October 2013
#12 Healthiest State AmericasHealthRankings.org, December 2013
#9 Best State for Expected Job Growth Forbes, September 2013
#4 Best State for Entrepreneurs Entrepreneur Magazine, August 2013
#2 Safest Driving City in America Allstate Insurance Company, August 2013
#7 Safest Cities in America (Boise) Business Insider, August 2013
#10 Best State for Business CNBC, July 2013
#1 Most Eye Healthy City VSP Vision Care, June 2013
#2 "America's Top 10 Wine Destinations" Redbook Magazine, June 2013
#7 Most Entrepreneurial State CNN Money, June 2013
#3 Best U.S. City to Raise a Family (Boise) MomItForward.com, May 2013
#3 Best Flyfishing College (Boise State) Fly Rod & Reel Magazine, May 2013
Top 50 cities for Business Growth MarketWatch, April 2013
#5 "Five States Experiencing the Most Enjoyment" Gallup Wellbeing, April 2013
A+ Ranking for Overall Friendliness Thumbtack (& Kauffman Foundation), April 2013
#9 Spring Break Destinations for Families, 2013 Livability.com, March 2013
#3 Metro Market Leading the Housing Recovery Forbes, February 2013
#4 Healthiest City for Women Women's Health Magazine, December 2012
#1 Best City for Men Men's Health Magazine, December 2012
#4 Best Downtown in America Livability.com, October 2012
#6 Most Inventive State
#3 Best River Town in America Outside Magazine, September 2012
#5 Five States Experiencing the Most Enjoyment Gallup Wellbeing, April 2013
#9 Spring Break Destinations for Families, 2013 Livability.com, March 2013
#3 Metro Market Leading the Housing Recovery Forbes, February 2013
#4 Healthiest City for Women Women's Health Magazine, December 2012
#1 Best City for Men Men's Health Magazine, December 2012
#4 Best Downtown in America Livability.com, October 2012
#6 Most Inventive State CNN Money, October 2012
#3 Best River Town in America Outside Magazine, September 2012
Family-friendly environment: Forbes, April 2012
Outside Magazine, 2010 Best Town in the Western U.S.:
#6 America's Hottest Music Cities The Atlantic, March 2012
"Fittest Towns of the West" Sunset, February 2012
#5 Healthiest Cities Women's Health/Men's Health, January 2012
#2 Five Safest Cities for Driving in America Allstate Insurance Co., September 2011
#9 Top Entrepreneurship & Innovation U.S. Chamber of Commerce, June 2011
#8, 10 Best Places to live in the U.S. CBS Market Watch, August 2011
#7 Long-Term Job Growth Rate U.S. Chamber of Commerce, June 2011
#5 Best Performing Medium Metro, Summer 2011 Headlight-LLC, October 2011
#10 Best Places to Find A Job The Fiscal Times, November 2011
#1 Best Adventure Town Outside Magazine, August 2010
Top 10 Forbes Magazine's Best Places for Business and Careers
2nd Best Place to Raise A Family Forbes, 2012
#2 Top Growth Towns for Families U-Haul International, Inc., February 2011
#5, America's 15 Most Active Cities Time Healthland, February 2011
3rd Best Place to Retire CNNMoney, 2011
4th Best City to Live, Work and Play Kiplinger Personal Finance, May 2008
100 Best Communities for Young People America's Promise Alliance, January 2008
Top Spot for Women to Start a New Career More Magazine, September 2007
Best City for Mid-Level Professionals Kiplinger.com, May 2007
No. 10 of 375 Best Places to Live Cities Ranked & Rated, 2nd Edition, May 2007
No. 3 Best Place for Business and Careers Forbes Magazine, April 2007
No. 6 of 72 Major Cities for Environmental Quality Earth Day Network, February 2007
6th Best City for Environmental Quality Earth Day Network, February 2007
Tree City USA and Growth Award The National Arbor Day Foundation, February 2007
Most Secure Place to Live in the United States Among Large Metropolitan Areas Farmers Insurance Group, December 2006
A Top Retirement Spot Where to Retire magazine, September 2006
No. 8 Best Place to Live Money Magazine, July 2006
Boise Real Estate
Not all neighborhoods in Boise are homogeneous- each has its own character and amenities. Whether someone is looking for a historic home in the "North End", a view home on the "Boise Bench" rim, or a new home in NW Boise- there's likely something for everyone. The following is a brief description and generalization of the various neighborhoods in Boise.
N Boise. North Boise (or the "North End") has some of the most desirable real estate because of its proximity to downtown, the foothills, mature landscaping, and the unique character of the historic homes. North Boise is the location of the first residential developments that began in the 1870s but also has some newer neighborhoods in the foothills. Some of the most notable areas in the North End are Harrison Blvd, Hyde Park, and Camels Back Park. Real estate prices in the North End usually have a higher price per/SF than other areas around Boise.
NE Boise. This is another very popular area in Boise for the same reasons of character, history, and proximity to downtown. As you go 10-15 minutes East of downtown there are newer neighborhoods in NE Boise such as Harris Ranch, River Heights, and El Paseo. Notable areas in NE Boise are Warm Spring Ave, Idaho Botanical Gardens, and the Boise Green Belt
SE Boise. South East Boise has both modest and upscale neighborhoods. The more modest homes can be found close to Boise State University while many upscale homes are in developments nestled along the Boise River. This area generally offers more purchasing power than in N and NE Boise but still many of the conveniences of living close to town.
Boise Bench. The "Bench" is an area south of Boise and is very diverse in both the age and quality of housing. The most desirable areas on the Boise Bench are homes that overlook downtown Boise, the foothills, and Boise city parks.
S Boise. If you're looking for purchasing power in the Boise the area, South Boise will give you a lot of options. Located South of I-84, these neighborhoods are 15 to 20 minutes away from downtown Boise.
W Boise. West Boise was largely developed in the 1970s and 1980s. Homes in this area will give you more purchasing power than areas closer to downtown Boise. This area is about a 15-20 minute commute to downtown Boise.
NW Boise. NW Boise is a very large and diverse area. It has homes built from the 1920s to brand new custom homes. The older homes are located in the areas as you get closer to downtown. The newer developments are generally further away. NW Boise has been growing in popularity because of its good access to downtown and proximity to the Boise foothills. Purchasing power is relatively strong in this area.
Boise, Idaho Weather
Boise has a great four-season climate and has things to do no matter the time of year such as skiing in the winter or boating in the summer.
| | | | | |
| --- | --- | --- | --- | --- |
| Month | Avg. High | Avg. Low | Mean | Avg. Precip |
| Jan | 37°F | 24°F | 30°F | 1.39 in. |
| Feb | 45°F | 29°F | 37°F | 1.14 in. |
| Mar | 54°F | 34°F | 44°F | 1.41 in. |
| Apr | 62°F | 39°F | 51°F | 1.27 in. |
| May | 71°F | 47°F | 59°F | 1.27 in. |
| Jun | 80°F | 54°F | 67°F | 0.74 in. |
| Jul | 89°F | 60°F | 75°F | 0.39 in. |
| Aug | 88°F | 60°F | 74°F | 0.30 in. |
| Sep | 77°F | 51°F | 64°F | 0.76 in. |
| Oct | 64°F | 41°F | 53°F | 0.76 in. |
| Nov | 48°F | 32°F | 40°F | 1.38 in. |
| Dec | 37°F | 24°F | 31°F | 1.38 in. |
source: weather.com
Boise Idaho Outdoor Activities
Skiing. There are four ski resorts within about three hours of Boise. The closest is Bogus Basin just about 30-40minutes from downtown Boise, Tamarack & Brundage Mountain about 2 hours, and Sun Valley about 3 hours away.
Hunting & Fishing. Idaho has many outdoor opportunities in including hunting and fishing. Check out the Idaho fish and Game web site for tons of information.
Boating. Within about an hour is Lucky Peak Reservoir, Arrowrock Dam, and Black Canyon Reservoir. Further North is Lake Cascade and Payette Lake in McCall, ID.
Boise City Parks. Some of the most notable city parks are nestled along the Boise River like Anne Morrison, Kathy Albertson, Julia Davis, and Barber Park. Camels back park is also very popular as it it a link to Boise foothill hiking and biking trails.
Boise Green Belt. The Boise Green Belt is a paved path for walking, running, or biking that spans more than 10 miles along the Boise River.
Hiking & biking. There are over 100 designated hiking and biking trails in and around Boise. Download the Ridge to Rivers Trail Map.
Boise River floating. Bring your own rafts or rent them at Eply's river rentals at Barber park and float the 6 mile stretch to Anne Morrison Park. Complete with rest stops and a shuttle bus, this is great weekend activity with friends and family.
Idaho Botanical Gardens. If you are a garden lover, the 30 acre Idaho Botanical Gardens is a must see.
Golfing. There are 9 golf courses in the city of Boise and even more in the nearby cities of Meridian, Eagle, etc.
Boise Idaho Economy
Boise has strong employment and has long had below the national average unemployment rate. Major businesses such as Micron, HP, and Simplot CO, base their companies out of Boise. Boise is continually recognized as one the best cities in America for business. You can find more economic information at the Boise City Chamber of Commerce.
Boise Relocation
More resources if you're relocating to Boise.