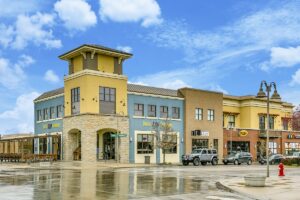 Back to SE Boise Real Estate
The homes for sale in Bown Crossing in Boise embrace the concept of live-where-you-work. Along with Harris Ranch, the goal of the developers of this Treasure Valley neighborhood was to make life simpler. People who buy Bown Crossing real estate can ride their bikes from their homes to a nearby office or to dinner at one of the area's best eateries. The town center area of Bown Crossing boasts a 35-acre development, constructed of Italianate architecture. The streets of the main throughways here teem with people eating lunch at on the patios of local restaurants, trying a local brew or treating themselves to a steak or some flatbread pizza. Some of the popular eateries here include the Tavern at Bown Crossing and Flatbread Neapolitan Pizza. There's also the East End Market at Bown Crossing, where locals come to interact with their neighbors and to buy fresh produce from area farmers. The Bown Crossing real estate in this area counts as one of the biggest draws for people looking for homes here.
Bown Crossing homes for sale appeal to people who want to buy in one of the City of Trees' luxury neighborhoods. The Boise greenbelt is adjacent to the subdivision, putting residents close to wildlife, fishing opportunities and the Ridge to Rivers trail system. This alone allows for miles of hiking and biking, giving people the opportunity to increase their fitness without making working out a separate part of their daily lives, particularly if they walk or bike to where they need to go.
Additionally, buying one of the homes for sale in Bown Crossing means that you belong to a small, close-knit community. At the moment, there are only about 95 homes in this riverside neighborhood. Some of the Bown Crossing homes have waterways right in their back yard. These are embraced by sculpted green banks and watched over by the branches of the weeping willow tree. From the cozy streets of your neighborhood, you get enviable views of the foothills that turn rich tones of pinks and purples in the setting sun. These residences lie right near everything, making life simple and rich for those who work where they live in Bown Crossing.
Search all MLS Homes for Sale!
Sorry we are experiencing system issues. Please try again.