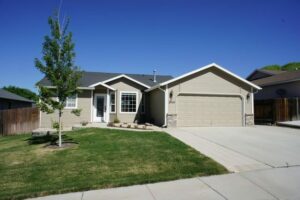 Back to SE Boise Real Estate
Columbia Village homes for sale lie in the kind of neighborhood that encourages people to put their pups on a leash and go out for an early morning walk. This type of outing through the subdivision brings with it the sights and sounds of people enjoying where they live in Boise and connecting with one another.
Right away, residents here notice that Columbia Village real estate is located near the crux of some pretty important Boise destinations. Chief among them is Micron. This tech company has gained respect the world over for its patents and cutting edge discoveries in computer memory as well as computing, server applications and networking to name a few. Columbia Village homes for sale are situated just a stone's throw away from Micron's Boise campus, making the houses here an ideal starting point for the workday.
Columbia Village Real Estate & Homes for Sale
Columbia Village is right near Federal Way, one of Boise's main thoroughfares. Even for those who don't work at Micron, living here is just convenient. Federal Way brings you back into the main part of Boise going one direction and gives you freeway access going in the other. It really makes getting to where you need to go easy. Nearby is also the Albertson's shopping center, Modern Dental and the outlet mall. Much of what people need to manage their day-to-day lives lies right here.
But people who buy one of the homes for sale in Columbia Village buy a living space that accommodates them perfectly, regardless of where they are in life. The single, who's hoping for a starter home, will find just what he or she needs here. A simple home with two or three bedrooms can be used for office space or guest rooms for friends or roommates.
The family looking for a home will like Columbia Village real estate as well. Buying a four-bedroom home in this neighborhood gives families access to the Simplot Sports Complex, an array of ball fields, where after school soccer, baseball and other sports take place year-round.
Finally, retirees will find homes nestled in quiet back streets, where they can sit on the back patio and drink their morning coffee or read the newspaper. Because the homes for sale in Columbia Village come in so many designs and sizes, they'll find the perfect piece of Columbia Village real estate to accommodate their interests and hobbies.
For everyone who lives in the subdivision, there's a rec center, where people can congregate and get to know one another. The center has WiFi. There is an outdoor tennis court with card key access; an exercise and weight room; an indoor racquetball court; four pools; an RV storage area; a meeting room, which residents can rent; a library for children and adults and a disc-golf course. It's definitely a great place to hang out that's close by. It allows you to get out of your own house without having to drive too far. It counts as one of the most important amenities that the subdivision has to offer.
Search all MLS Homes for Sale!
Sorry we are experiencing system issues. Please try again.