Back to Boise Real Estate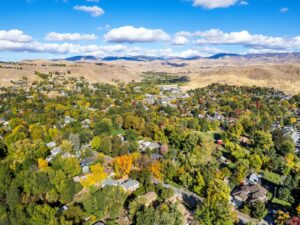 Northwest Boise real estate extends from the lush Boise River and Greenbelt all the way out into the dusty-boot brown Boise foothills. The area is a mix of old and new, near and far, and makes every part of the Treasure Valley accessible.
State Street connects those in northwest Boise to Downtown and more rural areas to the west. Slithering along the base of the foothills is Hill Road, which provides a winding, undulating route toward Downtown, Bogus Basin ski area or Eagle.
Boiseans love to be outdoors, and northwest Boise real estate provides the best of both worlds between the foothills and Boise River. Finding a trail to walk in the foothills or a place to stick your feet in the river is never far away. An astounding view over the Boise area or the cold river water stinging an inquisitive toe can both take your breath away.
Search all MLS Homes for Sale!
Sorry we are experiencing system issues. Please try again.