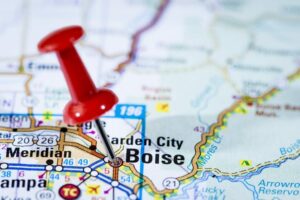 What are the house specifications you need (bed, bath, sq/ft, age, lot size, etc.) What price range of Boise homes are you considering? How far are you willing to commute to work? What do you like to do for recreation and what hobbies do you enjoy? How important are schools in choosing your location?
Answers to these questions can begin shape where you're likely to find the most desirable Boise homes.
Please don't hesitate to contact me and we can discuss more specifics of what you're interested in and I can help narrow down what areas may be best for targeting your home search.
Below you can find a brief introduction to the various areas of Boise and in a few sentences what they are predominantly known for. Just click the link to get more information as well find the respective homes for sale in that area. The cities below are all within Ada County. Learn more about the these areas in a general sense by visiting this page.
Boise Real Estate Areas
Meridian Real Estate Areas
North Meridian: North Meridian is considered anything North of I-84 to about Chinden Blvd (bordering Eagle), with boundaries to the sides by the between Eagle Road on the East and Blackcat Road to the West. The homes for sale nearest to the interstate tend to be more entry-level communities while the homes further north tend to get nicer & more luxurious. The NE side of Meridian was mostly built in the early 2000's. Traveling to NW Meridian the homes were built anywhere from early 2000's to still new construction today. This area of Meridian has many homes, restaurants, shopping, and more.
South Meridian: South Meridian is the area South of I-84 between about about Cloverdale Road and Blackcat Road. South Meridian was a bit slower to develop than North Meridian, but today is sought-after area. The people who buy in South Meridian tend to prefer the better interstate access over North Meridian. Most the homes for sale in this area were built starting in the early 2000's.
Eagle Real Estate Areas
Eagle is a smaller geographic area and isn't commonly segmented up in most locals minds by a "North or South", or "East or West". However, there are distinctions in Eagle which I'll broadly paint here:

North Eagle: North Eagle would be mostly along and in the foothills. These tend to be more acreage properties and horse properties.
South Eagle: These areas would include the communities and homes for sale along the Boise River.
Kuna Real Estate Areas
Kuna's boundary starts just south of Meridian. The homes for sale in Kuna tend to be less expensive than Boise, Meridian, Eagle, or Star. This is primarily due to it's location and further proximity some of the bigger city amenities that Boise or Meridian may offer. Many of the communities in Kuna tend to be more entry-level homes for sale, although there are many nice communities and some acreage opportunities as well.
Star Real Estate Areas
Like Eagle, Star is a smaller area and not normally referred to by "East/West", etc. However, I'll draw some broad distinctions below:

North Star: North Star would be mostly along and in the foothills and include homes on acreage.
South Star: These areas would include homes for sale along and near the Boise River.